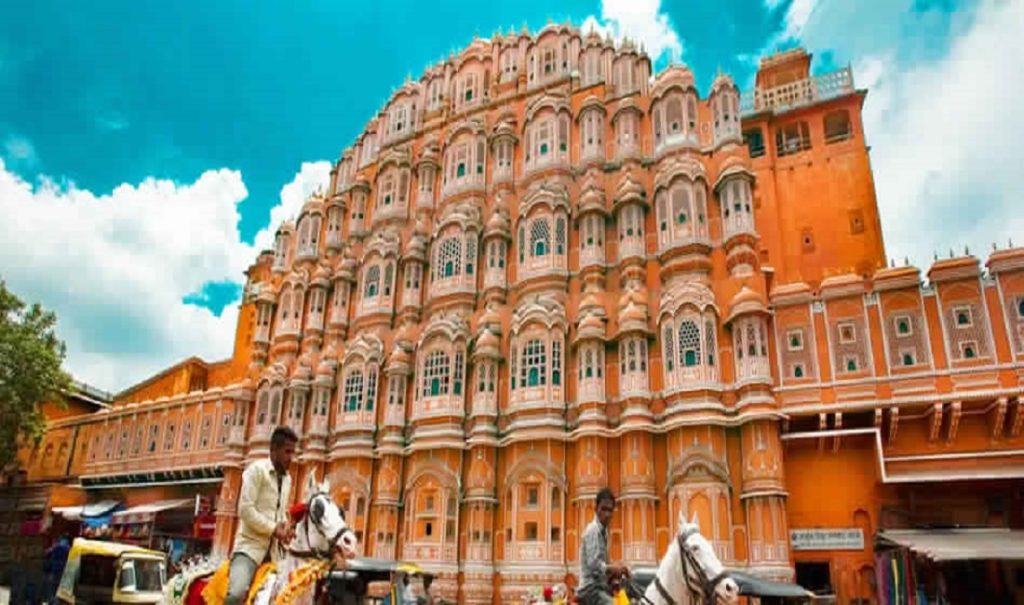 RAJASTHAN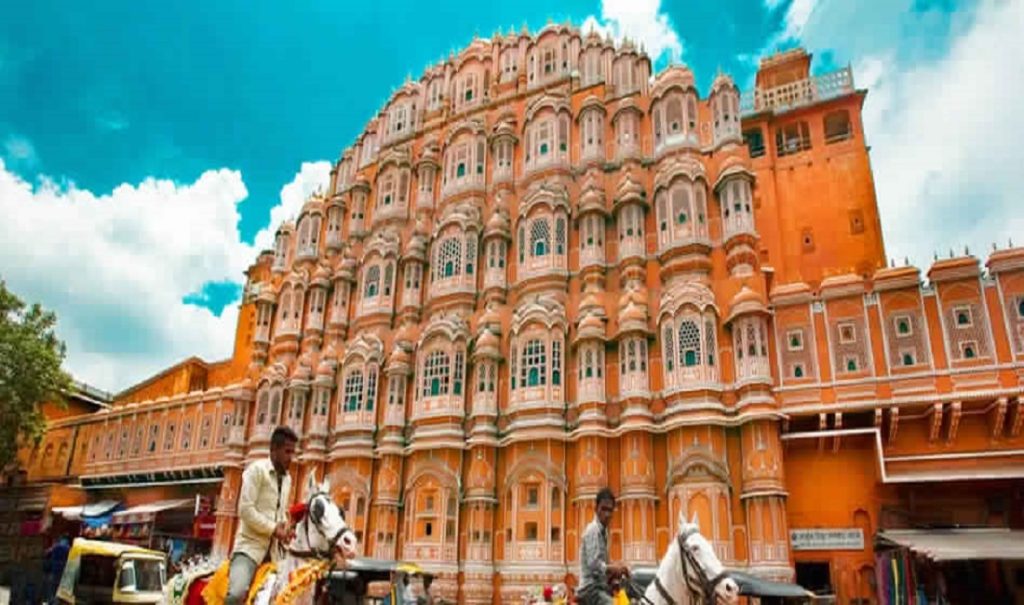 Rajasthan is the northern state of India bordering Pakistan .Rajasthan is famous for its Palaces ,forts, in its capital Jaipur (Pink city of India) are the 18th century city palace ,Hawa mahal a former cloister for royal women, fronted by a 5-story pink-sandstone screen. Amer Fort, atop a nearby hill, was built by a Rajput prince in the early 1600s.Apart from forts and palaces it is also famous for its wildlife sanctuaries there are four national park and wild life sanctuaries The tourism industry in Rajasthan is growing effectively each year and becoming one of the major source of the income for state government. Rajasthan is home to many splendid travel attraction for domestic and foreign tourists famously includes
1Forts and palaces of Jaipur:
A)Amber palace:It is also known for Amer fort and is located in Amer city 11kilometres from Jaipur, it is the principal tourist attraction in Jaipur .Amer fort is famous for artistic style elements,constructed of red sandstone and marble.it consists of Diwan –E –Aam or "Hall for public audience", Diwan –E- Khas or Hall of private audience ,Sheesh Mahal (Mirror palace) The palace was residence of Rajput maharajas and their families .Amer fort along with other five forts in Rajasthan is declared World's heritage site as per UNESCO.
City Palace:City palace is a palace complex situated in the city of Udaipur,Rajasthan. This palace is located on the east bank of Lake Pichola and has several palaces built within its complex.
Hawa Mahal:Hawa Mahal is palace in Jaipur .it is constructed of red and pink sand stones .the palace sits on the edge of the city palace .the palace is five storey pyramidal shaped monument that rises 50 feets
Jaisalmer fort:Jaisalmer fort is situated in Jaisalmer city of Rajasthan ,it is believed to be one of the very rare "living forts" in the world as one fourth of the population still resides within the fort. This fort is second old fort in the Rajasthan built in 1156AD y the Rajput Rawal Jaisal from whom derives this name , the forts yellow massive sandstone walls look tawny lion colour during day time and honey-gold at the time of sunset that's why it is also known as golden fort.
Mehrangarh fort: this fort is located in Jodhpur ,is the largest fort in India. This fort is situated 410 feet above the main city and enclosed by thick and large walls. The museum in mehrangarh fort is one of the well stocked museum in Rajasthan
Galleries in Mehrangarh fort
a)Elephant"s howdahs
b)Palanquins "Palki"
c)Daulat khana
d)paintings etc
2)Lakes of Udaipur:
a)Lake pichola
b)Fateh sagar lake
c)Dudh talai
d)sawroop sagar
3)Sand dunes of Jaisalmer and Bikaner: A sand dune is small hill of sand find in desert on or top of beach. It is formed by wind. It is ine of the most popular tourist attraction in Jaisalmer ,tourist like to do camping in these dunes .there are only five star camp resorts in Jaisalmer and in Bikaner it is famous for Camel safari
4)Havelis of Mndawa:
a) Murmuria haveli :Murmaria haveli is located in small town Mnadawa in Rajasthan ,this haveli is famous for its paintings which depict the political leaders of ancient India. Representing the prosperity ,wealth of Rajput ,merchants .famous paintings in this haveli are car paintings ,Lord Krishna and his cows, trains,
b)Mandawa fort:Mandawa fort is located in Aravali hills in Rajasthan ,Mnadawa fort present sight to be hold as it shows rich culture and unique features of Rajasthani architecture .
c)Jhunjhunwala Haveli: It is most beautiful Haveli and most visited attraction .it is best known to feature traditional art of Rajasthan
d)Gulab rai haveli: Gulab Rai Haveli is most palatial mansion of Mandawa .It is considered as exceptional piece of art and architecture for its exotic imagery The main attractions of the haveli are its beautifully carved wooden gates and latticed windows which talk of the originality of the artisans of those times.
5)Wildlife of Ranthambore : Ranthambore national park contains huge variety of birds ,animals and reptiles .This park is famous for diurnal tigers
Types of animals found in Ranthambore national park
Tigers ,leopards ,striped hyenas, Deer, jungle cats ,black bucks ,Indian wild boar, Indian flying foxes ,small Indian mongoose .
Reptiles: snub nosed marsh crocodile, Desert lizards, Tortoise, Indian pythons ,Cobras and Indian chamaeleon .
6)Tribes of Dungarpur, Banswara:
7)Cattle fair of Pushkar : This fair held at the end of November every year at the time of kartik purnima full moon .it is one of the high rated travel experience. For tourists it is once – in –lifetime opportunity to witness the colour