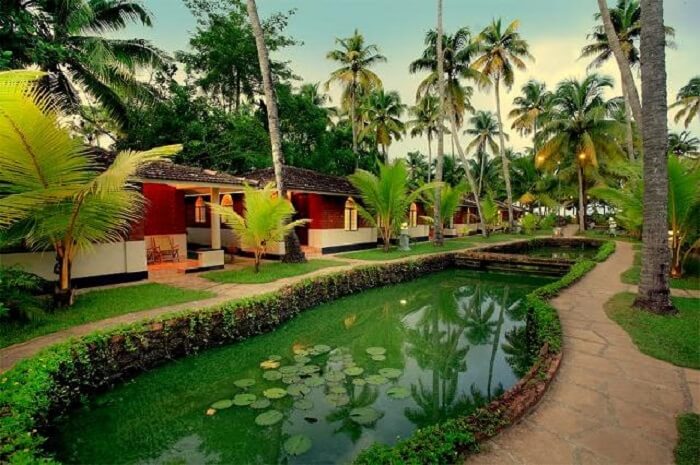 BEST WILDLIFE RESORTS IN INDIA
The Serai Bandipur: The Serai is 7kms from The Bandipur National park and 8km from NH 181. It is surrounded by lush green forest and offers view of western ghat and Nilgiri mountain
The rooms are well decorated and have flat screen TVs and minibars in it as well as verandas offering mountain views .Serai's restaurants serves Indian ,Chineseand European food Meals are included and served in refined restaurants and has outdoor seating, In-room dining is also possible ,there is also a bar featuring floor to ceiling windows ,mountain views and luxury spa facility ,outdoor pool, a gym and game room.
2) Jawai leopard Camp, Pali- Rajasthan: The Jawai hills located in Palli district of Rajasthan are one of the locations which offers rare view and sights of leopard roaming freely out in the open .It is also known as leopard hills , These are surrounded by Jawai band and grass lands .It is considered among one of the lesser known tourist destination , This place deserves more attentions than it has. These hills were made by lava millions years ago and now these natural caves are home for leopards and other wild animals of this area this is one of the best place where you can spot leopards during day time as they live together with humans with harmony
Apart from leopard safari this place is also known for bird watching as Jawai dam is home for migrated birds and there are other sanctuaries are available in Jawai hills like crocodile sanctuary etc
3) Tree House hideaway Resort, Babdhavgarh : The tree house hideaway ,an aco lodge of pugdundee safaris is a result of ever changing strategies ,this is made up of salwood,eucalyptus , bamboo ,wastewood and grasses . It includes 5 tree houses all rooms are set 12-16 feet off ground levelijn the branches of the trees due to its elevations wildlife can free move without any obstacle inside the property. All construction is done by local communities.
4)Dhikala forest lodge,Corbett : Dhikala forest lodge is run and managed by forest department under Corbett national park ,it is located in the core area of Corbett national park .When you go to this lodge you have to cross dense sal forest and Ramganaga river ,the animals mostly you will spot are barking deers, Sambhar, Barasinga ,elephants, hyena, fox, lizards and tigers also.
5)Kanha earth lodge (Madhaya pardesh): It lies in 16 acres natural forest ,tucked away in a small hamlet bordering Kahna's buffer zone .it offers guests a true experience of wilderness. The 12 luxury bungalows with suite ,bathroom and open verandahs have been inspired by gond tribal architecture .It has been designed with local stones and waste wood . it would be a great experience to come here n enjoy your vacations here.
6) UDAI VILAS PALACE, BHARATPUR WILDLIFE SANCTUARY: Udai vilas palace is located on the main Bharatpur –Fatehpur sikri road in the heart of Bharatpur city .The Keoladeo National park is one of the famous bird sanctuary of the country can be reached just on 5 minutes from this palace . Main facilities provided by them are outdoor pool ,well equipped gym ,table tennis, lawn tennis , steam and sauna and ayurvedic massage. Sightseeing excursions in and around the city ,village jeep safari and shopping tours are arranged by them upon request other facilities like room service ,laundry and medical aid are also provided. The multi-cuisine restaurant of the hotel serves Chinese ,continental and rajasthani food .there is well stocked bar as well where guests can relax and enjoy exotic drinks ,they can also enjoy music and traditional dance organized by the palace.
7)Maneland jungle lodge Gir:Maneland jungle lodge is one of the famous hotel near Gir having stylish interior and exterior as well made up of natural material .However the construction technique is local but still the beauty standard is very high ,the lodge gives unique feel of romantic and wild experience, There are 17 attractively built cottages framing jungle background
The hotel furnishes outstanding amenities which includes liquor license ,library for wildlife, money changer , swimming pool, in-house restaurant ,room service etc
8) TUSKER TRAILS RESORT(BANDIPUR NATIONAL PARK:Tusker trails is placed in Karnataka (India).It is located near Bandipur National Park,ethnically designed to capture the interest of the tourist its premises truly reflect the demure and rustic looks tempting enough to attract tourist to avail its services, it offers 6 cottages surrounded by dense forest, hills and wilderness of Bandipur National Park
Facilities provided by them are as follows
Swimming pool
car rental
Library
Air conditioned conference hall to conduct special events
Jungle safari tours
9) sunderban mangrove retreat: sunderban mangrove retreat is located serenely in Jamespore village at the edge of lush green forest of Sunder ban ,it is well known luxurious eco-friendly resort for mangrove lovers and travelers .Mangrove retreat has three types of accommodation like cottages, rooms and huts .the resort is equipped with large dining hall
Facilities includes
You will feel it like your second home as it provides environment like home
Swimming pool surrounded by trees and flowery plants
Navigating the mangroves by the motor driven boat is an amazing experience to view and flora and fauna
Telephone and fax facility
Jogging and running track
10) ORANGE COUNTY, NAGARHOLE NATIONAL PARK:It is located on the bank of river Kabani , this luxury resort is one of the best lodge ,The eco-chic huts have separate living area ,Tvs, air-conditioned rooms, minifridges and also have outdoor Jacuzzis and others have plunge pools.other facilities includes
Parking facility
Free Wifi facility
Free breakfast
Ayurvedic spa centre
Fitness centre
Bar and coffee lounges
Fine dining and grill restaurants
11) THE OBEROI VANYAVILAS, RANTHAMBHORE TIGER RESERVE, RAJASTHAN: The OBEROI hotel is situated next to Ranthambore tiger reserve , It is perfectly situated to spot tigers it provides luxury tents and royal caravans of yesteryear are wonderful space to relax ,It is nestled in the lap of nature enveloped by the quaint hills .The resort offers an excellent tented accommodation and is highly popular for providing high end facilities to the guests ,the stay over there will provide you long lasting cherished memories.
Other services and facilities provided by them are
Jungle safaris
Car rental
Swimming pool
Gymnasium
Currency exchange
Pool table
Boutique
Conference room
Baby sitting service
Medical service
12) AMAN-I-KHAS RESORT : AMAN-I-KHAS RESORT is a chic resort neighboring Ranthambore national park , home to wildlife including tigers, leopard and jackals is 17kms from Ranthambore fort
3hours drive from jaipur and 4 to 6 hours journey by train from Delhi ,jungle safari for 3 hours in the morning and in the afternoon led by national park approved guides
The 10 elegant ,Mughal inspired tents have 6m high canopies and air-conditioning ,in the dining tent Indian and western cuisines are served and most of the vegetables and herbs are grown under organic farm or garden
Facilities provided by them are
Dining tent with communal round table and nightly campfire
Ayurvedic spa centre
Outdoor yoga
Outdoor pool
Bar
Airport shuttle
Kid friendly
Full service laundry
Free parking